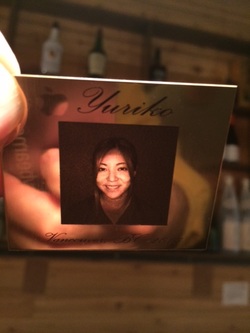 ---
A picture says a thousand words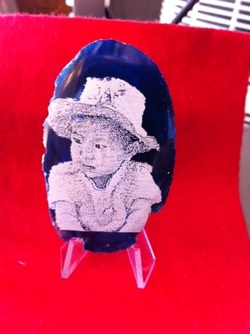 Baby photo on blue agate slice
An engraving lasts a thousand years
---
Cast in stone (literally)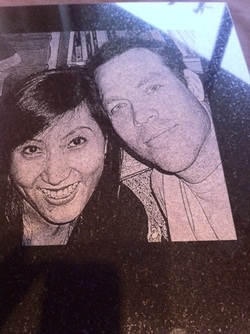 Nice engagement gift (that, and a ring)
Photo and writing laser engraved on black granite
---
Whether they are sitting next to us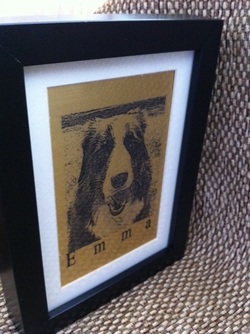 Gold on top, black underneath, many combinations available
or you want to remember when
they were.
---
Need some mood lighting?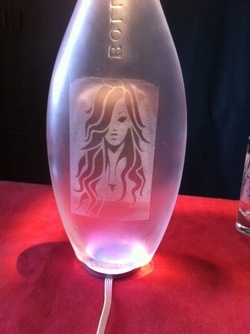 Don't throw out your next fancy bottle, especially if it's flat like this one
Try designing your own.
check out the image sites
like google images, yahoo images, photo morgue etc.
I'm sure you'll come up with
some ideas. you can bring me
your photo and the item you want engraved. located near
stanley park.
---
Honouring wildlife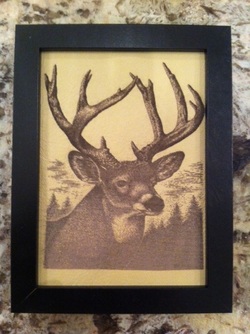 Photo of sketch taken from the internet, engraved on leather.
An etched photo has a special feel,
don't you think?
---
Significant dates to remember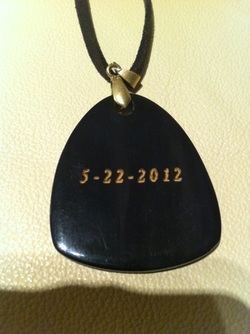 I believe this was on buffalo horn. Nice sketch on front (too personal to show)
(it's a secret).

The laser turned the writing gold, I didn't have to infill the colour.
---
Remembering people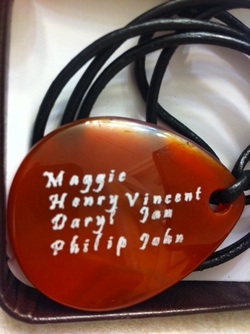 I stock some of these blanks and can take the order by email and courier it to you.
going away present from co-workers and friends.

The laser engraver turned the etched part white. No colouring required.
---
What can I say?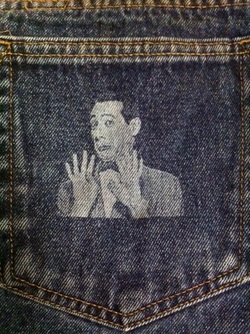 What? You want your ex boss's photo, rotated 90 degrees and closer to the center, rear?
I guess, helllloooo

this was engraved on the left rear pocket of my jeans (people will do anything to promote their business, won't they?)
---
Some people bring flowers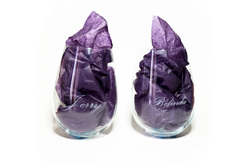 Click picture for larger image.
i bring custom engraved glasses when I'm invited to someone's home.
---
Business promotion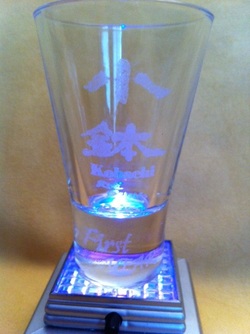 Do you have a special event or would like to present something special to a client?
japanese restaurant celebrating 1st anniversary. many of their customers'
names were engraved on the other side. kept on display behind the sushi bar.
---
Heading back to Japan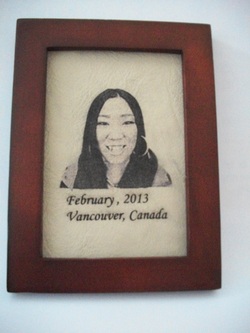 Engraved on genuine Canadian cowhide. Doesn't get more authentic than that.
Something to remember from stay in Vancouver.

Engraved on leather.
---
Customize your laptop
Remember, lost and stolen happens.
Add an image, a saying, your name, company logo, etc.
Engraving is permanent. Protect yourself from theft.


---
Promotional items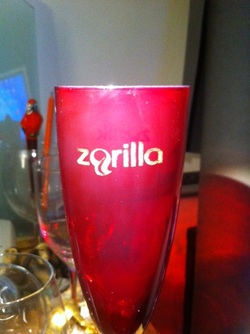 The lettering turned out a nice gold colour. Doesn't show up on photo.
---
Another baby photo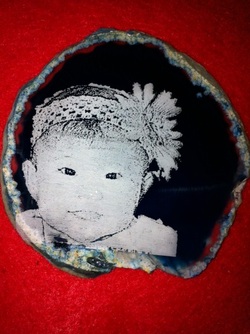 Also on blue agate, can be on other stones as well
Another laser engraved photo of the same girl at the top of the page
---
Pet photo on tile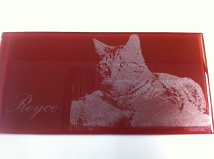 Give me a close up photo of your pet and I
WILL ENGRAVE IT'S IMAGE AND NAME OR OTHER WRITING. PUT IT ON A STAND OR USE AS A PAPER WEIGHT
---
Here's another cutie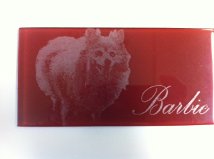 These are 3 X 6 inch glass tiles.
Regularly $40. on sale now for only $20
Quantities are very limited so act fast

---
Souvenir engraved photo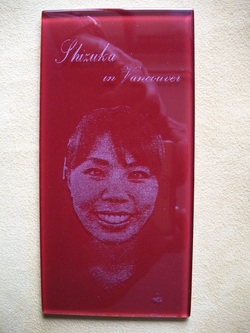 Much more special than a plain photo, don't you think?
---
Ideas?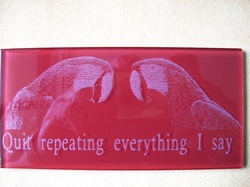 Do you have an imagination?
Something interesting to say?
Grab a photo from the internet and
put your words to it. Let's have some fun
---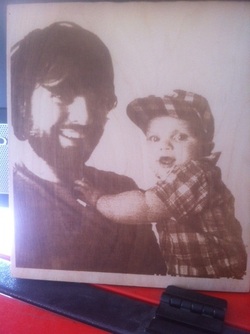 Father and Son engraved on wood





---